We welcome a number of new members to our community this week, come say hi, introduce yourself and expand your network! We had many of you asking for more information on the types of Live Learning Sessions that we will have in the future, so here's a page to explain it further! We would also love to hear what events you'd be most interested in attending next, so vote down below in our poll!
For our next event, we have Jack Boland, an Equities Trader with 7+ years of experience working at BlackRock and multiple hedge funds, leading a session on The Life Cycle of a Trade. This will be available exclusively for our Pro members.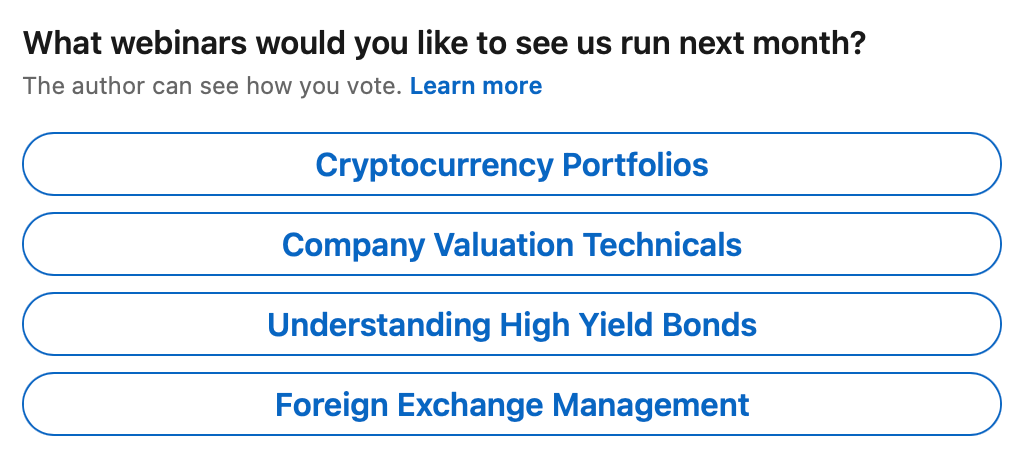 The fear of inflation across the globe continues to be a hot topic, with varying indicators suggesting different levels.  The liquidity problems that China's largest real-estate developer Evergrande faces are dominating the headlines this week, with fears of contagion to other Chinese companies.
We speak to Liyaan Seet in this week's podcast, a rugby player ➡️ fashion model ➡️ Hedge Fund partner.  Finally, we cover Paypal's $2.7bn acquisition of Paidy, a Japanese company that specialises in Buy-Now-Pay-Later services.
🗓️Date: Saturday 25th September
⌚Time: 11 am BST
📍Location: Virtual
🗓️Date: Sunday 26th September
⌚Time: 11 am BST
📍Location: Virtual
🗓️Date: Saturday 2nd October
⌚Time: 3 pm BST
📍Location: Virtual
💷 UK inflation surges to 3.2% as food and transport costs rise: inflation in August jumped faster in one month than at any time since the Bank of England gained independence to set interest rates, rising to its highest level since 2012
📉 Confidence in Bank of England drops as inflation fears rise sharply: only a third of people said they thought the BoE was doing a good job in keeping prices under control
🛍 Retail sales in Britain fall unexpectedly for fourth month: according to the ONS, the volume of monthly retail unexpectedly contracted 0.9% between July and August for the fourth consecutive month
---
✈️ Opening of air travel to most vaccinated foreigners: the U.S. will soon allow entry to most foreign air travellers as long as they're fully vaccinated while adding a testing requirement for unvaccinated Americans and barring entry for foreigners who haven't gotten shots
🇨🇳 US-China tensions knocked 96% off of bilateral tech investment: between 2016 and 2020, overall direct investment between the two countries fell 75% from $62 billion to $16 billion, with the tech sector alone plunging 96% over the period, according to Bain and Co.'s latest annual technology report
📈The US investigates into Binance: authorities are now examining possible insider trading and market manipulation -- the latest sign that scrutiny of the world's largest cryptocurrency exchange is intensifying
---
💶 European bonds slip on prospect of inflation hitting 2% by 2025: the ECB's internal models pushed Germany's 10-year bond yield up by 0.03 percentage points to minus 0.27%, the highest since early July
🇹🇷 High yields tempt wary investors back into Turkish debt: $2.25bn Turkish dollar bond sale occurred this week attracting vigorous demand from investors across the UK, US and Europe, a sign that the country is luring back investment into the country
💰Eurozone wages fall for the first time since 2011, easing inflation fears: labour costs in the eurozone have fallen for the first time in a decade, slipping 0.1% in the three months to June from a year ago despite rising consumer price inflation and falling unemployment
---
⚠️ Evergrande's liquidity issues continue: The Evergrande Group, one of China's biggest real-estate developers, owes more than $300bn to its lenders. Interest liabilities are rising by an average of $28mn daily. On Thursday, Sep. 23, alone, the company needs to pay around $120 million as interest payments to bondholders.
🇨🇳 China hopes to join the transpacific pact: japan has said China's "readiness" to join a transpacific trade pact originally designed by Washington to limit Chinese influence in the region would need to be judged on its merits after Beijing filed a surprise formal application to join the group
🇯🇵 Japan trials in easing travel restrictions for unvaccinated: following a request from top business lobby Keidanren this month, Tokyo has signalled its intention to shorten its 14-day quarantine for all travellers from overseas.
Acquirer: Paypal Holdings Inc (NASDAQ: PYPL)
An American multinational financial technology company operating an online payments system in the majority of countries that support online money transfers
Founded in 1998, headquarters in San Jose, CA, United States of America
Employees – 26,500
Target: Paidy Co. Ltd
Paidy's payment service allows users to make purchases online and then pay for them each month in a consolidated bill. The company uses proprietary technology to score creditworthiness, underwrite transactions and guarantee payment to merchants.
Founded in 2008, headquarters in Minato, Chiba, Japan
Employees – 250
Rationale
As a slight change in format for this week, we have a written piece from Liyann Seet, a Partner at Taaffeite Capital Management.
This episode covers:
Her background playing rugby and modelling
Making the transition to a Hedge Fund
Taaffeite Capital Management's Investment Strategy